A new genome-editing technology namely Clustered Regularly Interspaced Palindromic Repeats has been discovered: Medical Research Case Study, MU, Malaysia
A new genome-editing technology namely Clustered Regularly Interspaced Palindromic Repeats has been discovered in the late 1980s as part of the adaptive immune system in bacteria and archaea but yet, but many aspects of the biological tool were still unknown including its molecular structure, functions, and mechanism. This has caused underappreciation for decades.
In the 1990s, many CRISPR-associated types of research focused on microbial genetics including enterobacteria, M. tuberculosis, cyanobacteria, and S.pyogenes. Meanwhile, in the early 2000s, researchers began to explore in detail the structure and components, especially the Cas gene. By 2005, they started to understand the molecular structure of CRISPR and its mechanism of action which later drive the system to be applied in many branches of medicine including in oncology.
The Discovery of CRISPR/Cas9 technology has revolutionized the application of the gene-editing system in life sciences and medical research. Previously, researchers had employed a few other gene-editing technology systems such as zinc finger nuclease and transcription activator-like effector nuclease. In ZFN, it contains structurally zinc finger dimers that specifically recognize and bind to the target site.
Are You Searching Answer of this Question? Request Malaysian Writers to Write a plagiarism Free Copy for You.
At the same time, it also comprises the cleavage domain of FokI that is linked to an array of these three to six zinc fingers. This cleavage domain of FokI would cause double-strand DNA breaks that would be repaired by non-homologous end joining. Meanwhile, TALEN structurally consists of the DNA-binding domain and FokI catalytic domain.
In the binding process, one binding domain recognizes one nucleotide of a target DNA sequence in which two amino acid residues in the monomer are responsible for the binding. Recognition sites are located on the opposite DNA strands at a distance enough for the dimerization of the FokI catalytic domains.
These FokI catalytic domains cause a double-strand DNA break. This double-strand DNA break would lead to an NHEJ repair mechanism that will cause small insertion or deletion. The general structure of the gene-editing technologies is shown in Figure 1.
Get Solution of this Assessment. Hire Experts to solve this assignment for you Before Deadline.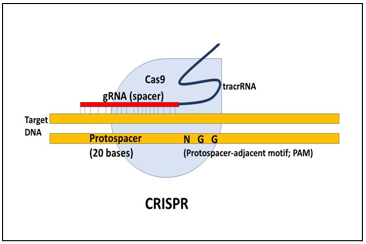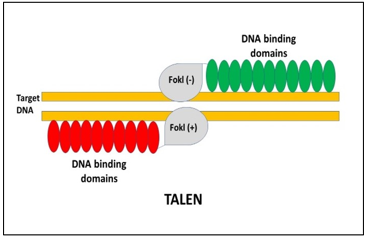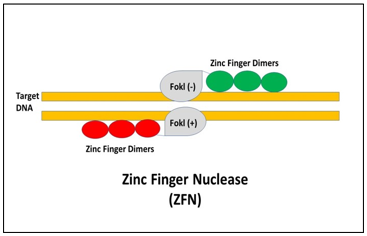 Figure 1: Basic structure of gene-editing tools.  The CRISPR complex consists of gRNA, track RNA, and Cas protein. Meanwhile, TALEN comprises DNA-binding domains and FokI as the catalytic domain while Zinc Finger Nuclease is composed of zinc finger dimers and FokI as a catalytic domain.
Stuck in Completing this Assignment and feeling stressed ? Take our Private Writing Services.
Get Help By Expert
Are you having report writing blues? Let the report writing help experts at Malaysiaassignmenthelp.com come to your rescue and remove all your report writing woes! With vast industry experience and expertise, these report writing professionals are renowned for delivering top-notch report writing services that are on time and of superior quality. Put your trust in them and they will make sure your report is concise yet informative. Try their assignment help services today; get ready to be commendable results!