CSC208 – Management Information System Assignment Sample UITM Malaysia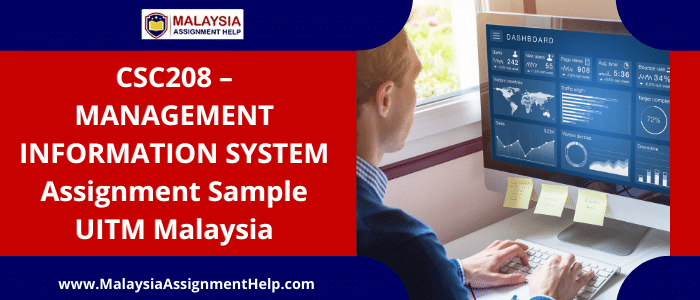 This course is the study of information systems focusing on their use in business and management. This course provides students with a look at how technology can be used to make an organization more efficient, profitable, and competitive by providing valuable insight into any particular function from finance all the way over to human resources.
The major system investments being made today are enterprise applications that integrate information across the entire company as well as create powerful new links between employees and customers or suppliers – creating what's known as "The Intelligent Enterprise."
Buy CSC208 Individual Assignments Online From Malaysian Helpers
Assignment Brief Of  CSC208 – Management Information System UiTM Malaysia
In this course, there are many types of assignments 
given to students like
a group project, individual assignment, report, business plan, business proposal, executive summary, and the solutions are given by us.
Upon completion of this assignment sample, students should be able to:
Assignment Activity 1:  Describe how managers develop, design, and implement major systems to create new resources of value for the business.
In this assignment example students will learn the how to create new resources of value for the business. Managers develop major systems to create new resources of value for the business by using the framework of project management to execute these systems, and environment analysis to evaluate the possibility of success.
The frameworks that managers use are procedures for planning, organizing, leading, delegating responsibility to others on behalf of stakeholders in order to complete a process based on desired outcomes with acceptable risk.
Read this sample: MGT162 Fundamentals Of Management UITM Assignment Sample Malaysia
The environment analyses are assessments made about how world events can affect a company's operations and ultimately its financial performance such as market conditions or economic policies in effect at any given time.
These analyses serve as informational inputs for managers who need their information and knowledge base before they can devise strategies for good times or bad times.
Execution plans are also used in conjunction with the planning frameworks for guidance and control of how to best implement the system.
Assignment Activity 2: Analyse business problems, develop systems solutions, and manage business systems in the digital firm.
This assignment module provide analysis of Business problems, develop systems solutions, and manage systems in digital firms are not that different from other types of firms. One major issue is how business models will be adapted to account for new technology.
It's expected that any company with a less than 10% minority share of the diversity population will lose their competitive advantage in 2020 due to increased disparities in access to technology. Another potential constraint on long-term growth is how quickly companies can adapt to new demographic trends around globalization.
Systems such as management information systems (MIS), supply chain management (SCM), customer relationship management (CRM) and more have become critical tools for managing both large and small enterprise organizations across the globe. Any system needs maintenance so they can survive and continue to provide value for the stakeholders.
Download CSC208 Group Assignments at Cheap
Assignment Activity 3: Apply problem-solving skills to an ongoing real business scenario.
Problem-solving skills are compartmentalized within the human brain on a modular basis. It is possible, however, to learn information about problem-solving that may be applicable across different types of scenarios.
One important skill in problem-solving that is relied upon heavily for work and business scenarios is the ability to read between the lines by looking at more things than what someone is telling you and then making an accurate assessment from there.
This can become especially helpful when a person speaks with others outside their own culture because they will not reveal everything they might need or want, but through reading nonverbal cues one can see where these missed details may exist and find them out, which saves time and money spent on fruitless avenues.
Assignment Activity 4: Identify the four enterprise applications: supply chain management, customer relationship management, enterprise systems, and knowledge management as the system pillars of the digital firm.
Enterprise Applications in Supply Chain Management – Managing inventory, transportation and logistics, customer care and service, supplier relationships.
Application examples include SAP ERP (including SAP supply chain management), Oracle E-Business Suite and PeopleSoft Enterprise applications for customer fulfillment; JD Edwards World applications for procurement management for T&M environments; DAT's enterprise application Vantage point to support skills development.
These are:
Salesforce.com – A cloud-based CRM designed for businesses to automate and systemize marketing strategy, sales prospecting and customer service
Eloqua – A provider of online marketing automation software for sophisticated marketers in BtoB organizations.
NetSuite – A web-based business management suite used by companies with fewer than 1,000 employees
SAP Business Objects – Consulting services in the field of business intelligence and analytics; provides software products that serve a wide variety of industries such as telecommunications, financial services, or manufacturing segments for business intelligence needs such as data warehousing, consolidation/reporting & analysis, master data management (MDM).
Take Help With CSC208 Group Projects Online From Malaysian Helpers
Avail top-quality answers on CSC208 – Management Information System from assignment helpers
 The assignment sample above is based on CSC208 – Management Information System.
Get your management assignments done as Malaysia assignment help provide assistance with the most urgent tasks for a limited budget.
We've heard that you might want to buy coursework writing help, and we can see why. With all the studying involved in getting into a competitive college or university program like law school, it would be nice if somebody could do your work for you so you have more time left over for yourself.
If this is something of interest to someone who wants an A+ on their assignment then look no further- our kl assignment helper provides just what they need!
Our homework helper Malaysia team has extensive experience with writing papers including assignments from such subjects as business management, Computer & IT, and marketing communications.