ACC 116: Identify the cost driver for each of the activity cost pools below Machine cost and Purchase cost: Introduction To Cost Accounting Assignment, UiTM, Malaysia
QUESTION 2
A. Identify the cost driver for each of the activity cost pools below:
i. Machine cost
ii. Purchase cost
iii. Maintenance cost
iv. Set-up cost
v. Quality control cost
vi. Assembling cost
B. Bee Sweets Enterprise supplies pure honey throughout Desa Halban, Perlis. For the last five years, Bee Sweets Enterprise has been charging its overhead using the traditional costing system. Recently, Encik Bashir, the owner has directed you as his accountant to implement the ABC system.
The following are the manufacturing overhead cost incurred by the business using both systems: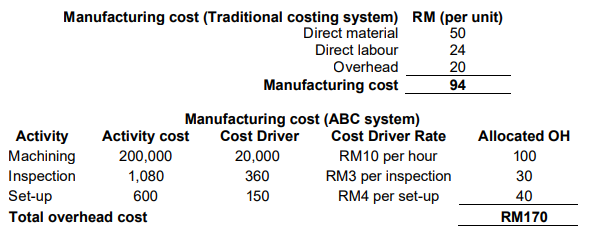 i. Advice Encik Bashir on which costing systems are preferable in pricing and why.
ii. Discuss a possible reason for the difference between the traditional costing system and the ABC system.
iii. State THREE (3) advantages of the ABC system in allocating overhead costs.
Are You Searching Answer of this Question? Request Malaysian Writers to Write a plagiarism Free Copy for You.