Syarikat Layang uses the First-in, First-out costing method for its perpetual inventory system: Bachelor of Business Accounting Assignment, HU, Malaysia
Question 1
Syarikat Layang uses the First-in, First-out costing method for its perpetual inventory system. It had inventory on 1 July 2022 consisting of 400 articles bought at RM4 each. Its purchase during the month of July consisted of 800 at RM4.20 each purchased on 8 July, and 2,000 at RM3.80 each on 18 July. It sold 2,400 at RM5.00 each on 28 July. 40 of those purchased on 8 July were returned in perfect condition on 31 July.
Question 2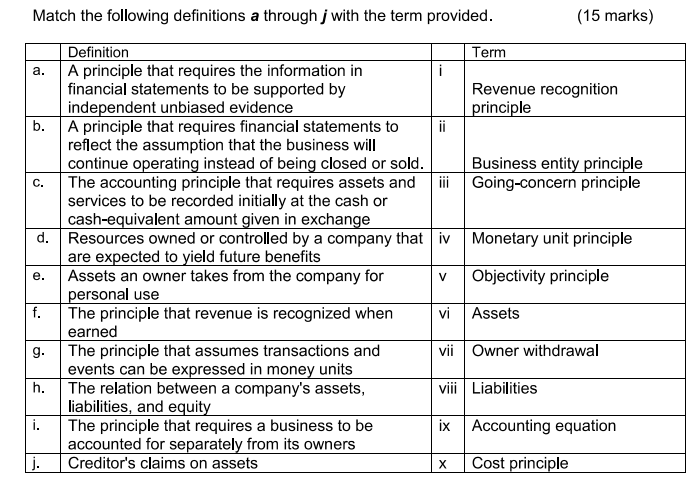 Question 3
The following extract from its cash book of Joan for the month of July shows the company's bank transactions:


Required:
a. Prepare a corrected cash book using the information given above.
b. Draw up a bank reconciliation statement. (3 marks) c. Discuss the purpose of bank reconciliation.
Question 4
A company issued financial statements for the year ended December 31, but failed to include the following adjusting entries:
a. Depreciation expense of RM8,000.
b. A portion of office supplies (an asset) used RM3,100.
c. Accrued salaries of RM5,200. (3 marks)
d. Revenues of RM7,200, originally recorded as unearned, have been earned by the end of the year.
e. Accrued service fees earned of RM2,200.
Required:
Prepare the adjusting journal with narration for the above on 31 December.
Question 5
Hamdan's unadjusted trial balance is shown below.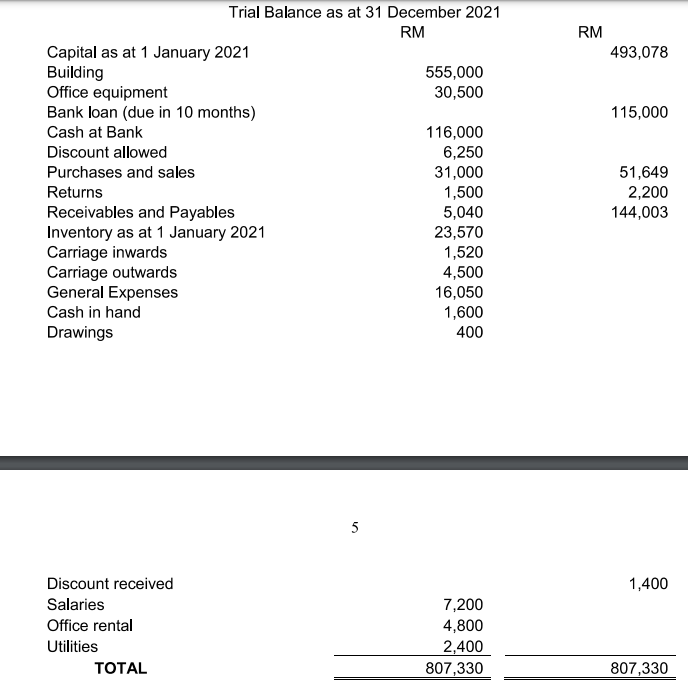 Additional Information:
A new office computer of RM4,500 was brought from home for office use
Hamdan has wrongly recorded the RM2,000 cheque payment into the account of the bank loan which should be paid to the account payable.
Receivables of RM300 have been posted to the purchase account.
The depreciation for building and office equipment is charged at 2% and 20% per annum using the straight-line method respectively.
The inventory as of 31 December 2021 was RM15,210.
Required:
a. Prepare General Journal for the above additional information.
b. Prepare the statement of comprehensive income for the year ended 31 December 2021.
c. Prepare the statement of financial position as of 31 December 2021.
Stuck in Completing this Assignment and feeling stressed ? Take our Private Writing Services.
Get Help By Expert
Malaysia Assignment Help has team of trained expert who provide assignment writer malaysia service on  Bachelor of Business Accounting. our experts have vast experience to develop all kind of solution related to accounting assignments such as FAR560 Financial Accounting And Reporting 4 Assignment Sample, AFC718 Legal Aspects Of Forensic Accounting Assignment Example,CRG660 Company Secretarial Practice Assignment, ACC116 Introduction To Cost Accounting Assignment etc many more at a cheapest price.