You are the project manager for your company's MCP project. You are collaborating with your project team: Project Management Assignment, UTAR, Malaysia
Question 1
You are the project manager for your company's MCP project. You are collaborating with your project team and business analyst to choose the most effective method for gathering requirements from project stakeholders. The stakeholders for this project are spread across West Africa, but you want to include everyone in the requirements-gathering process. There is some concern that, because your group is so dispersed, it will be difficult to gather the required information effectively.
Complete the following table to identify the characteristics of each technique and how it may, or may not, be helpful in this project.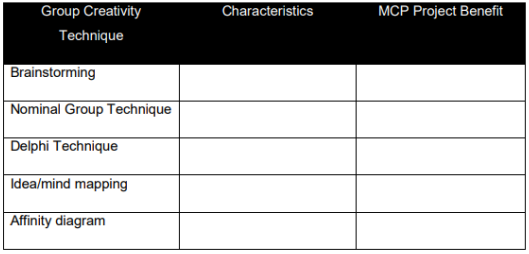 You want the stakeholders to vote on the main project needs because your stakeholder group is so big. Even if there isn't a majority in favor of the requirements you choose, you'll still utilize the plurality approach to rank them in order of importance. Describe in detail what is the plurality method and how risky is it for project requirements.
You are now prepared to build the requirements management strategy now that the MCP project has established the project's needs. The project requirements will be managed as part of the project according to the requirements management plan. What component of the requirements management plan is responsible for recording and why is this component needed in maintaining control over the physical attributes of the project's product?
Question 2
The MindGineer Project for your organization has been assigned to you to oversee as the project manager. A completion budget of RM 1,500,000 and an 18-month timeline are set forth for this project. The project has been ongoing for some time, and it is currently 30% finished, even though you were expected to guarantee 35% completion at this point. Your project continued to be delayed and has already cost RM 485,230 as a result of unforeseen mistakes.
Given the above information, complete the following table of earned value management formulas: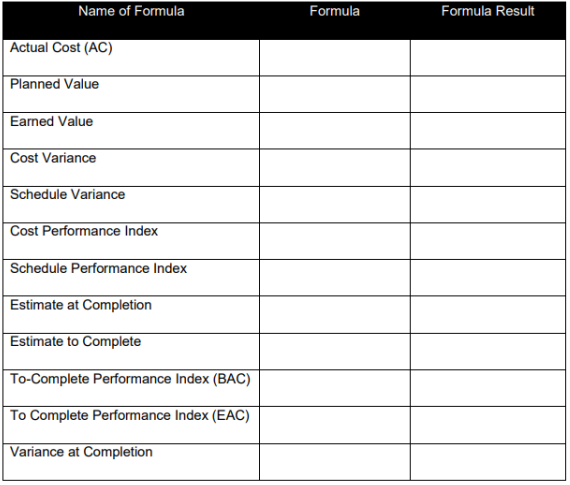 Another project manager who has been assisting you has created an optimistic estimate of RM 10.450. a most likely estimate of RM 22.300. and a pessimistic estimate of RM 36,650 for a portion of this project. What is the three-point estimate in this scenario?
You are currently assisting Datuk Darryl, the project manager for your client. in setting up the project management process of this project. Draw the project management life cycle components for Datuk Darryl to recognize the entire project flow.
Are You Searching Answer of this Question? Request Malaysian Writers to Write a plagiarism Free Copy for You.
Get Help By Expert
Are you a student in Malaysia struggling to find reliable essay writing help? Malaysia Assignment Help offers comprehensive assistance for all types of essays, from reflective to argumentative. Our experienced team of experienced professionals assignment experts are dedicated to providing quality content that meets the highest standards. We have both native and international writers who are well-versed in various academic styles, ensuring that the essay you get is of the utmost quality. So don't hesitate, to contact us today and get the best essay-writing services in Malaysia!