MUET Writing Malaysia – Definitive Guide with Essay Example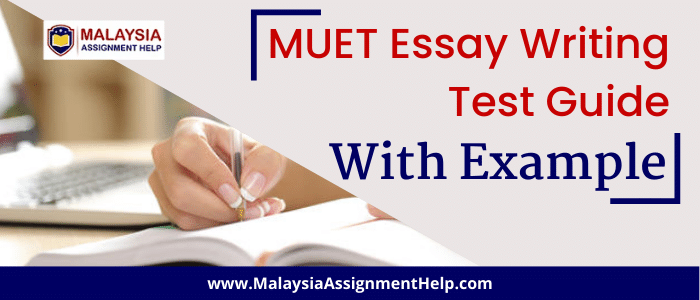 MUET is a test that all Malaysian students must take in order to apply for their desired course. It consists of 3 parts: Language Proficiency, General Paper, and Subject Knowledge Test. The Language Proficiency section tests the student's command of the English language through various writing tasks such as essay writing, letter-writing, and summarizing text. This blog post will aim to provide you with tips on how to score well in this section of MUET by providing an example of an essay topic along with guidelines on how it should be written.
What is MUET writing in Malaysia?
MUET is also known as the Malaysian University English Test seeks to measure the English proficiency among candidates who plan on pursuing tertiary studies at universities located within Malaysia.
The MUET is a test that tests the four language skills of listening, speaking, reading, and writing. While some people may be better at one or two than others; they're all important to hone in order for anyone interested in pursuing an education around these topics.
The MUET writing test is challenging- students have to transfer information from a non-linear source and write an essay of at least 350 words on the topic given.
MUET Essay Task 1: Report writing (40 marks)
You have been given 40 minutes to complete the task.
Study and analyze the information.
Describe the information or the process in a report format
Write between 150-200 words
MUET Essay Task 2: Extended writing (60 marks)
The essay must not be less than 350 words
Given 50 minutes to complete the task
Your essay can be:
–   Analytical-
–   Descriptive
–   Persuasive
–   Argumentative
Topics for MUET Essay Writing
The following topics are perfectly acceptable for a MUET essay, as all are general knowledge questions that every university or college student should know.
Why do people commit suicide for selfish reasons? Discuss
The most valuable thing in life is friendship do you agree?
Some people prefer street food others prefer homemade which one is the best to support your answer in 350 words
Education must be free for every child do you agree or not?
Impact of social media on people
Some people prefer small towns to live in others one prefer to live in a city why? Which one do you prefer?
MUET Essay Writing Format
MUET is a challenging exam because it includes writing within the Academic Writing Format. For many students, this format may be unfamiliar and difficult to understand or execute in their answers at test time so they don't score well on that section of MUET.
This difficulty can come from being unaware of how academic writing differs from other forms such as creative or personal essays which are more common formats for essay questions outside of the MUET testing space.
1. Introduction paragraph:
Introduce your topic to the reader.
Use catchy lines, questions, brief definitions, etc.
Must have a thesis statement a statement which consists of the main big ideas
Never use: "research or study" use words like on the basics of my readings, in my opinion, as this is essay writing, not a research paper.
Never use: "can be defined as" use words like "In my opinion, I believe that, etc."
2. Body paragraph:
Body paragraph: must have 3 paragraphs.
State the main idea
Often written as the first sentence of each paragraph
Supporting details and ideas
Examples, elaborations, explanations,s, and descriptions can also be included
Must support the main idea discussed in this particular body/body paragraph
Use linkers, connectors, and transition words.
Conclusion paragraph:
Restate the main idea
Use words like hence, therefore, thus, as a result.
Write it like it is the last sentence of the paragraph.
3. Concluding paragraph:
Bring the ending of things that you have discussed earlier.
Restate your thesis statements.
The conclusion must have 4 sentences
You may suggest, give opinions or reaffirm your stand
Use words: To conclude, to summarize, as a conclusion, finally, lastly, eventually, to encapsulate.
Tips to write MUET Essay for Malaysian Students
The best way to write a MUET essay is to have a succinct thesis in the introduction and also be cognizant of transitions between one topic and another.
Moreover, it's important to know your audience when you're writing an essay for MUET. One key point which is usually overlooked by students is having knowledge about the specific subject they're talking about.
Transfer information
Use good grammar
Carefully analyze the graphical information
Give your opinion
Think critically
If you're aiming at scoring Band 5 or higher, then critical thinking is a must.
If your aim is to score Band 5 or higher on the exam, it's time for some serious rigor and reflection.
Use these tools to help with critical thinking:
Short term, mid-term and long term effects
Example: Alcohol
Short term: yellow teeth/bad breath
Mid-term: waste of money
Long term: Health problems such as cancer
Individual, society, and government
Example: Alcohol
Individual: Set goals and prepare for change
Society: Must not encourage one to consume alcohol.
Government: Must stop fundraising
Types of MUET Essays
MUET essays are usually of the expository type, they can also be argumentative or persuasive.
While an essay with a descriptive header generally has a focus on what is being described.
An essay with a narrative header (or "story") generally puts a priority on how something was done or what it felt like to do it and the completion
And an informative-explanatory (inform + explain) header offers treatment or analysis of existing data, facts, practices, etc.
Persuasive essay questions require you to take up a position on an issue and then persuade or convince the reader about your viewpoint based upon evidence. These can come in the form of anecdotes, facts, statistics etcetera
Expository Essays are different from other types of essays in that they don't require any persuasion but instead simply look for evidence supporting or disproving what you have been told/asked about.
Importance of MUET essay
You will be required to take the MUET test if you are planning on pursuing your university degree at local public university.
However, note that this requirement is not compulsory for those who wish to pursue their education outside of these institutions and choose instead to study at private schools or international ones (MUET tests are only necessary when applying for scholarships).
Remember also, that different universities may have different English proficiency requirements so make sure you check what they need before sending off an application.
The grading system for MUET
When students get their MUET result, they'll be able to see the mark for each paper and then an overall score. Band 1 is when the student will have to take two extra English courses during holiday time; a Band 3 or 4 means one course more than this. If you're in bands 5 or 6- excellent! You don't need any additional lessons over the summer holidays whatsoever.
MUET Essay writing Band 6- Very good user (Aggregated score: 260-300)
The speaker demonstrates a strong command of the language, and their fluency is unparalleled. They are highly expressive in everything they say, accurate with words that express both nuance and precision when needed most. The person's understanding of context should not be questioned – it appears as if this individual functions flawlessly when interacting verbally or written textually via various languages.
MUET Essay writing Band 5- Good user (Aggregated score: 220-259)
The speaker demonstrates a strong command of the language, and their fluency is unparalleled. They are highly expressive in everything they say, accurate with words that express both nuance and precision when needed most. The person's understanding of context should not be questioned – it appears as if this individual functions flawlessly when interacting verbally or written textually via various languages.
Hire Experts for MUET Test & Essay Writing
Assignment writer Malaysia is staffed by a team of writers who are experts in the Marketing and business field, holding master's degrees or PhDs. These professional homework writers can provide assistance with case study writing for your marketing projects as well as thesis support at an affordable price point.
If you are interested in getting the best Marketing Assignment Help, turn to Freelance assignment writers and get your top-tier help. Our Essay Writers Malaysia knows academic writing requirements inside out so they can provide research topics that meet any student's needs.
Struggling to understand your assignment? Get the help you need from professionals. Collaborate with us and get the best assignments completed on time while still understanding everything.