Group Assignment Acknowledgement Examples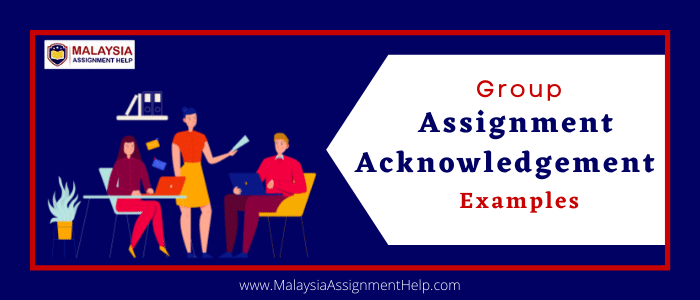 If you are looking for an example of acknowledgment for a group assignment, this article is definitely for you. In this article, you will get a sample acknowledgment for group assignments, group projects, reports, and individual assignments. Similar to most acknowledgments written by Malaysian students in school or group assignments at work, it is obligatory that the student thanks everyone who has helped them complete their project.
Teachers and mentors should always be thanked first as they have had the greatest impact on your academic success thus far. If there was an individual who assisted with completing specific tasks within the assignment then he too should also receive recognition;
Group Assignment Acknowledgement – Sample 1
We would like to thank all of the people who helped us with this project, without their support and guidance it wouldn't have been possible. We appreciate [ Mr. X ] for his guidance and supervision which has provided a lot of resources needed in completing our project.

Our parents as well as friends were constantly encouraging us throughout the process when we felt discouraged or became frustrated because they knew how much work went into this venture so that is why we want to extend them thanks too!

We are grateful to our colleagues in developing the project, for their willingness and assistance. They helped us with this project, which we appreciate dearly.
Group Assignment Acknowledgement: Sample 2
The project has been a lot of work, but we couldn't have done it without the support and guidance from some very important people. We want to thank [ Mr. Y ] for all their help with this project; they provided us with resources as well as essential information that was needed to complete our task successfully.

Thank you also goes out to our parents and friends who were there every step of the way during this time period-without them, I'm not sure what would've happened!

We also want to thank all of the people who have been working alongside us on this project. It's so great that you are willing to help out when we need it! Thank you for your hard work and dedication, which has made our success possible.
Group Assignment Acknowledgement: Sample 3
We would like to thank our teachers and professors who gave us a chance to work on this project. We are very grateful that they provided valuable suggestions for the betterment of the project, which we greatly appreciate them for doing so.

Furthermore, we want to extend special thanks towards our college as well because without their resources then none of what is seen now could have been possible in terms of creative or intellectual development.

Last but not least, everyone involved with this think tank deserves recognition such as family members and friends. they all played an important role when it came down to giving motivation at times where there was no hope left!
Group Assignment Acknowledgement: Sample 4
We are very grateful to our teachers and professors who gave us a chance to work on this project.

We would like to thank him for giving us valuable suggestions and ideas, as well as the college that provided all of the resources needed in order for it to be successful.

Our parents always encouraged us through every rough patch with their support, but also friends were there when we needed them most!
Acknowledgment for Group Assignment/Project: Sample 5
It has been a long and strenuous project, but we have finally reached the finish line with our final product. We owe an immense amount of gratitude to all those who contributed in one way or another; without you, this would not be possible. The completion of such a large-scale endeavor requires support from many people, so thank you for your contributions!

We are also very grateful to our teachers and supervisors for their kindness as well as patience during the process – they never once lost faith in us despite how difficult it was at times. To everyone else involved: Thank You!.

Finally, we want to extend our thanks towards God (The Great Almighty) because he always had his blessing on us when nobody else did 😉
Group Assignment Acknowledgement: Example 6
It is with a heavy heart that we say goodbye to this project. It was one of the most challenging, yet gratifying experiences in our lives and education career.

We truly appreciate all those who helped us get here: teachers for their guidance; supervisors for your understanding; friends, family members, relatives – without you guys there would be no way!

Above all else thank God Almighty because he always had his hand on us during every step of this journey to completion.
Group Assignment Acknowledgement: Sample 7
Mr. X thank you for your leadership and knowledge that helped us complete this project successfully, we are grateful to have had the privilege of learning from a wonderful teacher such as yourself!

Thank you Mr. Z for all of your guidance throughout our work on this project including advice and support when needed!

And finally, thank you again to everyone involved in making it happen because without them we would not be here today with an amazing product completed!"
Group Assignment Acknowledgement: Sample 8
We are grateful to our respectable teacher, Mr. X who has been instrumental in guiding us through this project successfully. With his wisdom and knowledge, we were able to complete this report with ease under his supervision which was a very enriching experience for all of us!

We also would like to thank Mr.Z whose advice helped make the production process much smoother and easier than expected considering it was such an ambitious task from the start!

Lastly, without their help along the way, I'm not sure if we could have made it here today so thanks go out as well to everyone else that contributed at some point or another during our journey on completing this remarkable undertaking together."
Acknowledgment Sample for Group Assignment: Sample 9
We are grateful to our respectable teacher, Mr. X for his insightful leadership and knowledge which benefited us in completing the project successfully! Thank you so much for your continuous support and presence whenever needed.

We would also like to thank Professor Z who provided valuable advice on a number of occasions during the preparation of this report as well as contributing some money that helped us buy necessary equipment.

Last but not the least, we sincerely appreciate all those whose contribution was either direct or indirect–we could have never done it without them!
Group Assignment Acknowledgement: Example 10
A project like this would be impossible to complete without the help of a number of people. I am grateful for all those who helped make it possible and want them to know how much their words were appreciated throughout my process. My deepest gratitude goes out especially to _______, __________, and ______for making themselves available at every stage as they patiently answered my many questions about matters both big and small.

A project such as mine is unimaginable without the assistance from others working on behalf or in support of me along the way; acknowledging these individuals' efforts ensures that none go unappreciated! One cannot overstate what each person has done during different stages so below are some brief summaries:
Please do not copy these examples word for word but try to create your own version. You can also hire our Malaysian assignment helper to help you with your assignment acknowledgment page for your project.