Company FTZ is a company that manufactures telecommunications equipment and provides support: Project Management Assignment, UTM, Malaysia
Question 1
Company FTZ is a company that manufactures telecommunications equipment and provides support services to telecommunication operators globally. It concentrates on being able to design, manufacture, deliver, and provide project management services to its key customers in Malaysia. The company provides technical support services with a workforce of about 150 engineers and support staff, either permanent employees or subcontractors engaged in projects.
At present, company FTZ is planning to move its office to a bigger and more strategic location in order to serve its customers better. This is because the company is growing exponentially and the current working space is insufficient. The need for a larger, more modern facility to accomplish business goals for the future is pressing. The moving contract was signed one month ago and is expected to be implemented in the next few weeks.
Get Solution of this Assessment. Hire Experts to solve this assignment for you Before Deadline.
You were hired as a project manager and you are expected to prepare the following key deliverables of the project plan.
Construct a Network Diagram. Perform CPM analysis and the calculation of LS, EF, ES, LF, and TF based on Table 1. Identify the activities on the critical path.
Construct an S-curve and calculate SV, CV, SPI, and CPI. Comment on the status of the project. (Refer to Table 2 and Table 3).(Let's say today is July 1st (Day 45) and the following data is available: Total EV(BCWP)=60,000, AC(ACWP)=65,000, PV(BCWS)=60,000, BAC(Budget Cost at Completion)=200,000)Assume that the 'Moving Project' has 10 activities as shown in Table 1.
Syarikat FTZ adalah syarikat pembuatan peralatan telekomunikasi dan menyediakan sokongan kepada operator telekomunikasi secara global. Syarikat memberi tumpuan terhadap reka bentuk, pembuatan, penghantaran dan menyediakan servis pengurusan projek kepada pelanggannya dalam Malaysia. Syarikat tersebut menyediakan servis sokongan teknikal dengan tenaga kerja sebanyak 150 jurutera dan staf sokongan, sama ada pekerja tetap atau melalui subkontraktor dalam projek.
Kini, syarikat FTZ dalam perancangan untuk mengembangkan pejabat kepada lokasi yang besar dan strategi bagi menambahbaik servis kepada pelanggannya. Ini adalah disebabkan syarikat tersebut berkembang secara eksponen dan kawasan kerja sekarang adalah tidak mencukupi. Fasiliti yang lebih besar, moden diperlukan untuk mencapai matlamat perniagaan pada masa hadapan. Kontrak telah ditandatangani sebulan yang lalu dan dijangka akan dijalankan dalam beberapa minggu lagi.
Stuck in Completing this Assignment and feeling stressed ? Take our Private Writing Services.
Anda telah dilantik sebagai Pengurus Projek dan anda diperlukan untuk menyediakan butir-butir penting perancangan projek yang berikut.
a) Bina Gambar Rajah Rangkaian. Jalankan analisis CPM dan pengiraan LS, EF, ES, LF, dan TF berdasarkan Jadual 1. Kenal pasti aktiviti-aktiviti di atas laluan kritikal.
b) Bina lengkungan S dan kira SV, CV, SPI dan CPI. Komen terhadap status projek. (Rujuk Jadual 2 dan Jadual 3).
Sekiranya hari ini adalah 1 Julai (Hari 45) dan berikut adalah data yang tersedia: Jumlah EV(BCWP)=60,000, AC(ACWP)=65,000, PV(BCWS)=60,000,
BAC (Budget Cost at Completion) =200,000)
Anggap Projek Bergerak mempunyai 10 aktiviti seperti yang ditunjukkan dalam Jadual 1.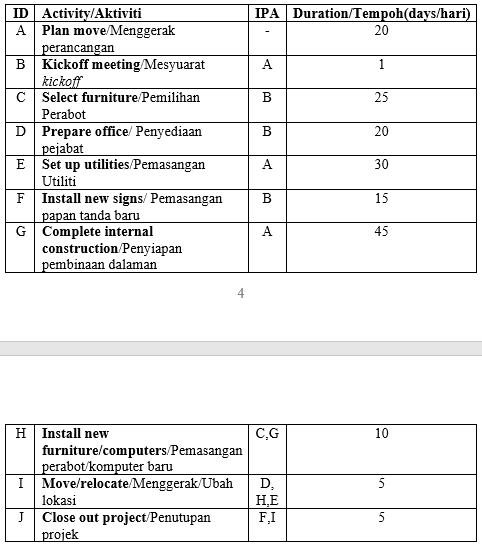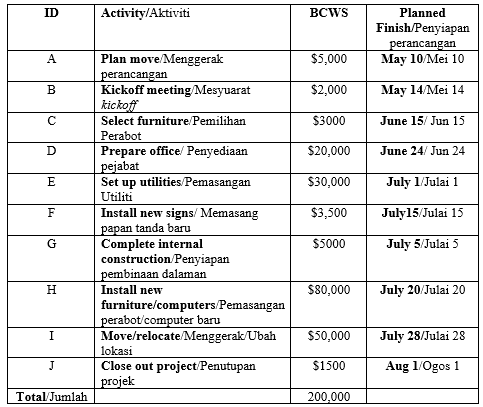 Are You Searching Answer of this Question? Request Malaysian Writers to Write a plagiarism Free Copy for You.
Get Help By Expert
With Malaysiaassignmenthelp.com, you can expect high-quality case study assignments that are accurate, original, and enduringly effective. Our team is committed to meeting your deadlines and exceeding your expectations every step of the way. We take pride in our ability to deliver top-quality assignments that help our clients achieve academic success. So why wait? Whether you need help with assignments, Malaysiaassignmenthelp.com is here to help. Contact us today to get access to professional-level case study writing services that can help take your academic performance to the next level!