ACC30305: Mr Peter, a sole trader, started his frozen food business on 1st January 2021 under the name of Peter Frozen Enterprise: Principles of Accounting Assignment, TU, Malaysia
QUESTION 1 
Mr. Peter, a sole trader, started his frozen food business on 1st January 2021 under the name of Peter Frozen Enterprise. It sells frozen ready meals including ready-to-eat foods, bakery, snacks, and desserts. The following are his business transactions for the month of January.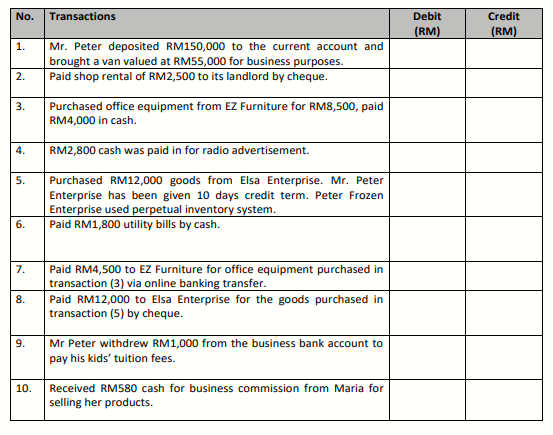 REQUIREMENTS:
a) For each of the above transactions, state the accounts to be debited and credited
b) Asset is one of the components in a balance sheet. Define assets from an accounting perspective and distinguish between current assets and noncurrent assets with examples.
QUESTION 2
Mr. Lim started a business, Lim Lighting House, on 1st June 2020. During that month, he carried out the following transactions: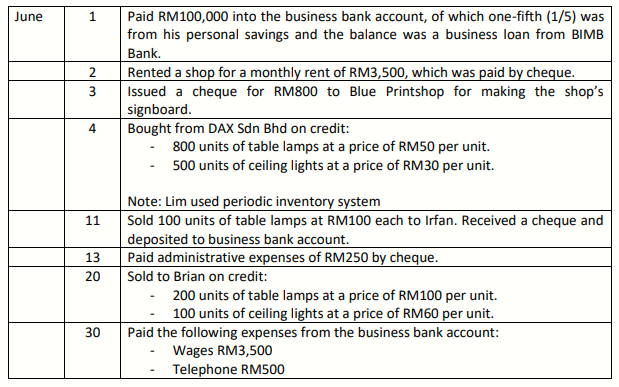 REQUIREMENTS:
(a) Record the above transactions in the general journal.
(b) Post the journal entries to the relevant accounts in the general ledger (T-account format), balance, and
close all the accounts including balance b/d as of 1/7/2020.
(c ) Prepare a Trial Balance as of 30 June 2020.
QUESTION 3
The following Trial Balance was extracted from the books of EMGEE Sdn Bhd, an accounting firm as at 31 December 2021 :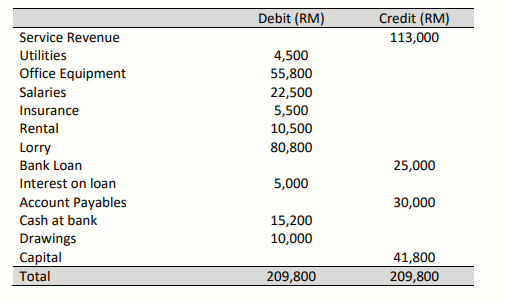 You are required to:
(a) Prepare an Income statement for the year ended 31 December 2021.
(b) Prepare a classified balance sheet as of 31 December 2021.
QUESTION 4
The management of Melinda Sdn Bhd will discuss its financial position during the 5th annual meeting. As an assistant accountant of the company, you have been asked to do a financial analysis based on the following Trial Balance as at 31 December 2019.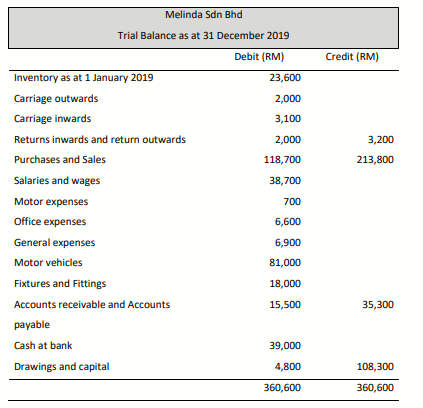 You are required to calculate the following
(a) Gross profit margin (%)
(b) Net profit margin (%)
(c) Inventory turnover ratio (times)
(d) Average collection period (days)
(e) Current ratio
(f) Quick ratio
(g) Explain three (3), external users of financial statement information and their reasons for using them.
Assignment Guideline
Expectations
The aim of the assignment is to provide students with the opportunity to:
apply accounting knowledge and concepts learned in the accounting process.
conduct research, locate, extract and synthesize the relevant information.
present information and communicate effectively.
Marks will be awarded according to the correctness of responses, as well as the logic and soundness of arguments, if applicable.
Are You Searching Answer of this Question? Request Malaysian Writers to Write a plagiarism Free Copy for You.
Get Help By Expert
If you need professional homework writing help on ACC30305: Principles of Accounting then consult experts of Malaysia assignment help. our experts are highly educated to provide the proper homework solution on accounting assignments as per university guidelines.