FAR460: Help Bhd has been involved in manufacturing and supplying gloves and related products. The company continues to record success: Accounting Financial and Reporting 2 Assignment, UTM, Malaysia
Question
Help Bhd has been involved in manufacturing and supplying gloves and related products. The company continues to record success year after year and is now better known as one of the glove manufacturers that prioritize environmentally friendly products.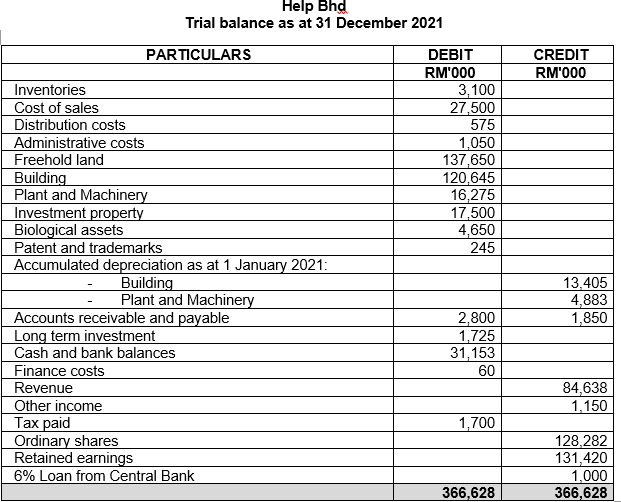 While preparing the final account for the year ended 31 December 2021, the Account Clerk discovered that an amount of RM256,000 for credit purchases for the year ended 31 December 2020 was wrongly recorded as RM265,000 in the company's books. The closing inventories as of 31 December 2020 were correctly stated.
The revaluation model is adopted for the freehold land. During the year, the directors revalued the freehold land for the first time to RM145,000,000 and there is no record of this transaction.
The company adopts the revaluation model for the building with an estimated useful life of 50 years. On 1 January 2021, the company revalued the building for the first time and found that the value was RM115,000 lower than its carrying value. The remaining useful life of the building on that date was 45 years. This transaction has not been recorded.
The cost model is adopted for plant and machinery, and it will be depreciated using the straight-line method over 10 years of estimated useful life.
During the year, the useful life of a machine purchased for RM4,000,000 on 1 January 2018 has been revised. The equipment was originally depreciated based on 10 years of useful life. However, starting from 1 January 2021, after 3 years of use, the machine's remaining useful life, which should still be 7 years, has been changed to only 4 years.
At the end of the year, the following accounts were still outstanding and had not been recorded; RM800,000 for directors' emoluments and RM300,000 for audit fees.
During the year, a customer who was dissatisfied with the quality of the company's product sued the company. The company's lawyer believed that it was likely that the customer could win the court case. The cost of damages was estimated at RM550,000. 
On 2 November 2021, the company discovered a series of fraudulent activities committed by an account clerk. The cash receipts from customers totaling RM1,000,000 had been stolen by the clerk, where RM600,000 were stolen in the year 2020 and the balance in 2021.
Tax expense for the year is estimated at RM6,200,000.
The financial statements were authorized for issue by the board of directors on 15 March 2022.
Get Solution of this Assessment. Hire Experts to solve this assignment for you Before Deadline.
Get Help By Expert
Are coursework writing tasks becoming a challenge? Are tough deadlines making you feel overwhelmed? Fret not, as Malaysia Assignment Help has got your back. Our team of coursework writers can provide quality coursework within the shortest turnaround time possible. When it comes to coursework from Malaysia, look no further than our experts for all your assignment needs!