Discuss the FIVE (5) assumptions of break-even points. A company manufactures a single product: Finance Assignment, UM, Malaysia
QUESTION 1
Discuss the FIVE (5) assumptions of break-even points.
QUESTION 2
A company manufactures a single product. Budget and standard cost details for next year include:
Selling price per unit RM35.00
Variable production cost per unit RM4.50
Fixed production costs RM120,000
Fixed selling and distribution costs RM85,000
Sales commission 10% of the selling price
Sales 80,000 units
QUESTION 3
Desa Cemerlang Sdn Bhd has been engaged in the process of forecasting its financing needs over the next  quarter and has made the following forecasts of planned cash receipts and disbursements:
The monthly sales for the year of 2021: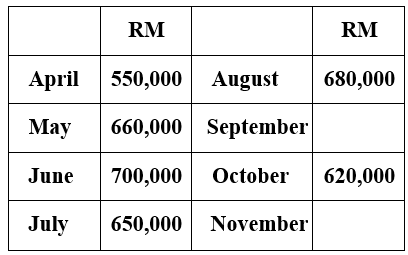 The firm's sales of 60% is collected in the month of sale and the remaining balance will be collected equally in the following two months after sales.
The raw materials are 70% of sales purchased two (2) months before the sales month. The supplier is paid one month after the purchases on a cash payment basis.
The wages and salaries are paid based on 10% of sales in the month. The utilities for the firm are 5% of sales in the month of their incurrence.
Furthermore, the monthly rent expenses are RM7,000.
RM5,000 tax payments are to be made in the second month of each quarter.
A 5% annual interest on an RM500,000 term loan will be paid monthly.
The beginning cash balance for the budget period is RM70,000 with a minimum cash balance of RM45,000 and an increase to RM90,000 in August and RM135,000 in September.
Any short-term financing needed to maintain the minimum cash balance should be paid off the month after the financing month with an annual interest rate of 15% per annum.
Get Solution of this Assessment. Hire Experts to solve this assignment for you Before Deadline.
Get Help By Expert
Seeking Online Assignment Experts in Malaysia? Look no further! Malaysia Assignment Help is your ultimate destination for top-notch academic assistance. Whether you're a student at Universiti Malaya (UM) or any other institution, our expert team is here to provide comprehensive support for your finance assignments. With a proven track record of excellence, we deliver tailored solutions to boost your academic success. Experience the convenience of expert guidance at Malaysia Assignment Help today!