D30IC: Originally proposed in 2010 by the Malay real estate developer PNB. With the initial foundation and groundworks commencing: Innovation In Construction Practice Case Study, HWU, Malaysia
Originally proposed in 2010 by the Malay real estate developer PNB. With the initial foundation and groundworks commencing in 2014, Merdeka 118 is set to be the second-tallest skyscraper in the world when it opens in 2023. Designed by the Australian architect Fender Katsalidis. Its unique and complex design building included a spire design with a distinctive irregular diamond-shaped façade.
This major project, as the name indicates, features a total of 118 usable floors, with the top floor reaching a height of 502.8 m. The total height of the structure, including the spire, tops at a total of 678.9m. The total gross floor area of the project, within its 118 floors, is around 292,000 sqm  (CTBUH, 2023) (Figure 1). The project will cost an estimated RM 5 billion, which equates roughly to 1.5 billion USD.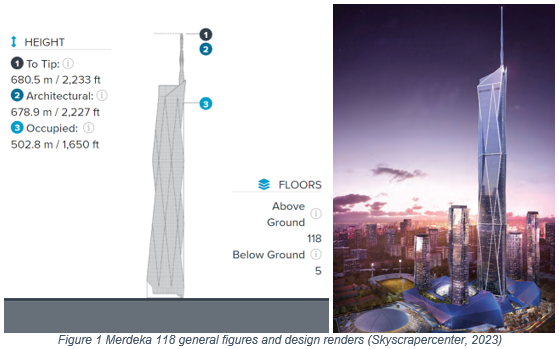 As expected on a building of this magnitude, the design features a number of wide range innovations in regard to the construction technologies deployed, particularly on its structural design. ARUP, who engineered the project, utilizes a complex structural system and innovative construction materials, like high-performance concrete, (Figure 1) to enable the building to effectively withstand high loads of wind, such as those expected during the Malaysian monsoon season.
Moreover, environmental performance and overall sustainability were key considerations when developing the building with a strong consideration of design strategies putting particular emphasis on energy optimization and preventing overheating. The building will be certified LEED Platinum, as well as accredited with the GreenRE and Green Building Index (GBI) Malay certifications. In addition, as a high-end development, occupant well-being, and comfort is also a priority with the building also being WELL Certified  (JLL, 2023).
Are You Searching Answer of this Question? Request Malaysian Writers to Write a plagiarism Free Copy for You.
Get Help By Expert
If you are looking for reliable case study assignment help in Malaysia, then Malaysiaassignmenthelp.com is the website for you! This platform is powered by a professional and highly experienced team of experts that offer instant case study assistance to university students. Additionally, our assignment writing services are reasonably priced to meet the budget constraints of all students, no matter their financial background. Put your trust in our experts and let us take care of all your case study needs!