BAAB1014: Zalina is the owner of a sole proprietorship, Zalina Enterprise. The following is her accounting record As of 1 August 2021: Business Accounting Assignment, UIU, Malaysia
Question 1
Zalina is the owner of a sole proprietorship, Zalina Enterprise. The following is her accounting record As of 1 August 2021.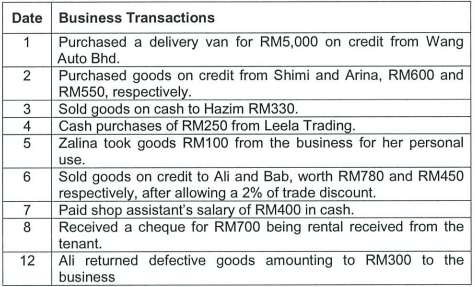 a) Identify the effects (increase/decrease) of the above transactions on assets, liabilities, owner's equity, revenues, and expenses.
b) Identify the double entry to record the transactions above.
The example is provided below. 1 July 2021 – Fuzi brought in RM100,000 cash and deposit the money into the business bank account.

Stuck in Completing this Assignment and feeling stressed ? Take our Private Writing Services.
Question 2
Mr. Kiran is a merchandising company that has business operations in Ipoh, Perak. The following trial balance has been extracted from the books as of 30 September 2021.
Kiran Enterprise
Trial Balance as of 30 September 2021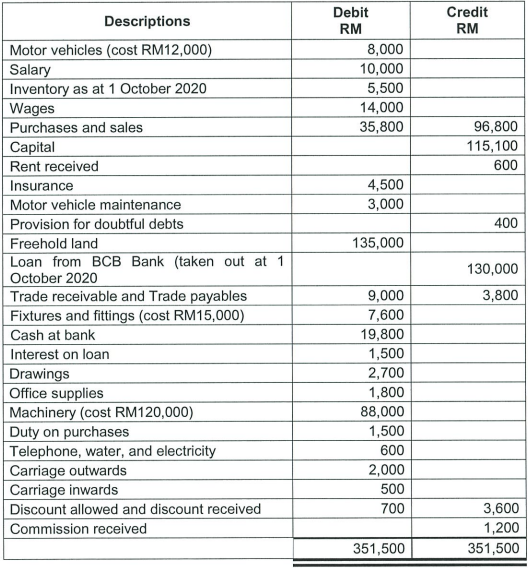 1) Closing inventories as of 30 September 2021 were estimated to be worth RM8,700.
2) Annual depreciation for the non-current assets is as follows:-
Fixtures and fittings      5% on the cost
Motor vehicles             10% on carrying value
Machinery                  10% on the cost
3) Part of the building is rented out for RM200 per month. As at 30 September 2021 two months' rental has yet to be received.
4) Encik Kiran purchased a fire insurance policy on 1 June 2021. The amount in the insurance accounts is for the first nine months of the yearly insurance premiums.
5) Provision for doubtful debts amounting to 6% of trade receivable has to be provided.
6) Goods worth RM500 and RM500 cash were taken by Encik Kiran for his own use. No records were made in the accounts.
7) The telephone bill for September 2021 amounting to RM180 has yet to be paid. 8) The interest on the loan at 12% per annum is not yet paid.
Required:
a) Prepare Kiran Enterprise's Statement of Profit or Loss for the year ended 30 September 2021.
b) Prepare Kiran Enterprise's Statement of Financial Position as at 30 September 2021.
Question 3
The cost information below is related to the production activities of Mega Sdn Bhd (MSB). MSB produced 3,000 tables in March. These tables are sold for RM200 each. MSB had 200 finished goods inventory at the beginning of March. At the end of March, there were 300 tables in the finished goods inventory. The following cost information relates to March.
Required:
a) Prepare a statement for the cost of goods manufactured.
b) Compute the average cost of producing one unit of the table.
c) Calculate the total conversion cost.
d) Prepare a statement of profit and loss for external users.
Are You Searching Answer of this Question? Request Malaysian Writers to Write a plagiarism Free Copy for You.
Get Help By Expert
Do you want the best academic essay writing help online in Malaysia? Come to Malaysia Assignment Help and get high-quality help from the best academic writers in Malaysia. With our assignment help Malaysia, you can get quality assignment solutions at the best prices!