Game-Changing Tips for Effective Writing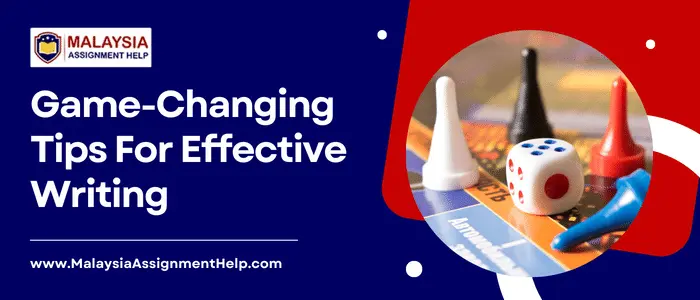 As an aspiring writer, you might wonder about some habits that can help you write an amazing book.
Here are some tips that will be a game-changer.
Keep reading!
Organize Your Writing
It doesn't matter whether you are writing a blog post or working on your first novel; you will always want to organize your writing.
For instance, if you are writing a novel, you will want to use a mind map to lay out the themes, characters, and chapters and get an overview of your entire novel.
You will want to understand the important aspect that good writing is about organizing your writing in a coherent way, which means integrating persuasive arguments and remaining authentic to events that actually occurred – even if you are writing fiction and for non-fiction writing, you will want to use evidence with authentic references.
You will always want to follow a logical design in your writing. Even if you aren't following a chronological order in your writing, you will want to express everything in a way that the readers don't get confused by a lack or absence of cohesion.
You get the point – when it comes to organizing your writing, you will want to stick to clear sentences, coherent paragraphs, and contextual words. You will want to know how to effectively use words without fluff, such as the meaning of affect vs effect and how you can use it in different situations.
The thing about using the right vocabulary is that, as a writer, you might already be an avid reader. And the more you read, the better your vocabulary and way of expression will get. And trust us when we tell you that there is always room for improvement.
You will want to aim to keep getting better at your craft of writing.
Conciseness is Better
If you aspire to become a professional writer, you will want to understand the simple rule that precise writing is better than clutter and fluff. In fact, it wouldn't be wrong to state that clutter is a disease in writing.
If you want to be recognized as a refined writer, you will want to eliminate unnecessary words, meaningless jargon, and pompous frills. However, it is important to mention here that you can always remove unnecessary words from your writing later in your editing sessions.
Believe us – you will want to be ruthless during your editing sessions. Soon you will see great results in the form of a dramatic improvement in your writing. If you are writing a novel, you will want to hire one of the best professional editors.
And before you send your book for publication, you will want to seek the assistance of a proofreader. The proofreader will also serve as the last set of eyes to go through your manuscript before sending it out for publication.
Eliminate Vagueness from Your Writing
When you sit down to write, you will want to write forcefully. In other words, you will want to jot down your ideas, thoughts, and feelings directly, clearly, and gracefully. Clear communication is as important as clear writing.
A wordy sentence can be great when writing monologues – otherwise, you will want to ensure that every word serves its purpose and is laid down in the right spot. Remembering this, you will want to compose clearer and avoid obscure writing.
Your readers are more likely to put down your book if they grapple with the ideas you have laid down to find their intended meaning. Unless you are writing poems, you will want to ensure that your readers fully understand what you have written.
A golden tip to follow is to write in an active voice while using good vocabulary, as it will make your writing instantly more forceful. Apart from writing forcefully, you will also want to write exactly what you mean by choosing words that accurately express your thoughts.
Write for Your Ideal Reader
You will want to aim at writing for the reader – not for yourself. Write in a way that will compel your reader to read the entire book – from the first page to the last one. As a writer, you cannot surrender to your ego as your ego will make you see the reader as second to your book.
This aspect doesn't mean that you have to flatter them – but – it does indicate that you will want to keep your ideal reader in mind when writing your book.
As a professional writer, you won't have the luxury to write whatever you want and however, you want it. It is not the job of your ideal reader to follow you – on the other hand, it is your job as a writer to make their job of reading your book as easy, comfortable, and captivating as possible.
Once you have completed your manuscript, you will want to read it out loud so you can hear what it will sound like to the ears and minds of your readers. By reading your manuscript out loud, you will also be able to read your writing from your reader's perspective.
You can also benefit from getting a beta reader on board. In case you haven't heard of a beta reader before – their job is to test any unreleased work and provide honest feedback to the author.
Revise, Edit, Rewrite
As a writer, you will need to work on your manuscript by revisiting it from time to time – before you send it out for publication. The thing about writing is that it is tough. The good news, however, is that good editing, revising, and rewriting culminate in great art. This is also the key formula for becoming an efficient writer.
As an aspiring writer, you will want to make drafting your habit. Also, you will want to start writing using a mind map that you can edit as the story flows. Of course, it will be frustrating to keep revising and rewriting your story, so you can also benefit from hiring a professional editor to guide you about your written work.
Nonetheless, before the final editing session, you will want to take a few weeks off from looking at the draft as, over time, your mind gets used to it, and you will stop seeing mistakes. Only edit after a few weeks, and you will see many mistakes your mind wasn't detecting.