BAAB1014: Multi Cakes Sdn Bhd is involved in selling cakes. You are required to classify the following costs according to their behavior: Business Accounting Assignment, UIU, Malaysia
QUESTION 1
Multi Cakes Sdn Bhd is involved in selling cakes. You are required to classify the following costs according to their behavior.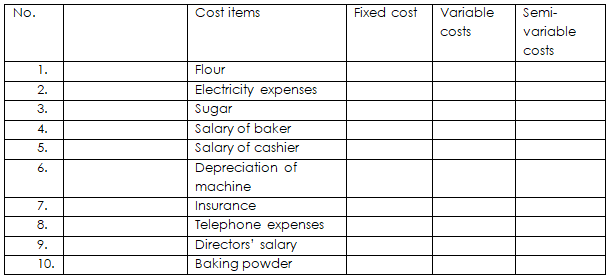 Question 2
Fill in the missing amount in each of the following accounting equations.
Below is the transaction in relation to Cempaka Rias Enterprise (CRE) for January 2021

a) Identify the effects (increase/decrease) of the above transactions on assets, liabilities, owner's equity, revenues, and expenses.
b) Identify the double entry for the above transactions
Question 3
Walla Manufactured Sdn Bhd is a car manufacturer that produces side mirrors with a sales price of RM350 and a variable cost of RM150. Fixed costs are RM250,000 per annum with the total unit sold being 1,400 units. You are required to calculate the following:
Contribution / Sales ratio.
 Number of units to break even.
Sales (RM) at the break-even point.
Number of units to be sold to achieve a profit of RM150,000 per annum
Based on B above, find the margin of safety in units.
Question 4
Rahul Sign, the owner of Wood Factory Expert (WFE) has the following accounts balance on 31 December 2021.
Additional information:
The closing inventory was valued at RM240,000
Prepare a Statement of Profit and Loss for the year ended 31 December 2021.
Prepare a Statement of Financial Position as of 31 December 2021.
Stuck in Completing this Assignment and feeling stressed ? Take our Private Writing Services.
Get Help By Expert
Get expert assistance for your BAAB1014 Business Accounting assignment at UNITAR International University (UIU) with Malaysia Assignment Help. Our online assignment help service offers comprehensive assistance in accounting topics, ensuring accurate and timely submissions. Our team of experienced tutors will provide you with customized solutions and step-by-step guidance to enhance your understanding of business accounting concepts. Trust us to deliver top-quality accounting assignments that meet your academic requirements.